Case Studies
Southern Methodist University
How the Office of Engaged Learning delivered a hybrid event before most event organizers had heard the term.
---
THE CHALLENGE
In February 2021, Camille McCallum had a problem. The previous September, she had hosted the twice annual Big iDeas Competition virtually for the first time in its history because of the pandemic. Now, Texas was reopening and Camille had to make a decision she'd never made before: In-Person or Virtual?
Several issues complicated the planning. First, some attendees were excited to get back to in-person events, while some were weary of large crowds
. Second, her s
ponsors were uninterested in both online audiences and small in-person audiences
. Finally, running a hybrid event looked like running two events with a tighter budget.
THE SOLUTION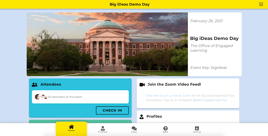 Camille chose to work with BuzzIt. With BuzzIt, both the in-person and the virtual audiences were able to take part in the event. It was the glue between all audiences.
The pitches were hosted in a private room that both in-person and virtual attendees could view and vote on. Another room was set up to allow in-person attendees to check out startup booths, while online attendees were able to browse their profiles and connect with them through the chat or other social media channels. With BuzzIt, Camille could focus on executing the event as one flow instead of managing two audiences.
Whether an attendee was in-person or virtual, they could:
Access the Zoom link
Find presenter profiles
Connect with presenters
Vote in the $5000 audience choice award
View the schedule
Using BuzzIt reduced her workload. Anytime she was asked a question, she could simply reply
'Just go to BuzzIt; it's all on BuzzIt'

THE RESULTS
The Big iDeas Competition was not only a successful hybrid event, it was the first hybrid event to
be hosted
with BuzzIt
.
Hosting a hybrid event gave Camille more flexibility with participants. It allowed participants to attend the event in whichever way they felt comfortable.
Bonus: Using BuzzIt, meant that Camille was able to capture data from the event. This data will help Camille make informed decisions for future events.
About BuzzIt
BuzzIt is a Vancouver based event networking, interaction and data collection software. Often, conference-level apps are just too much work. BuzzIt offers a flexible and simple alternative with a quick setup speed. This is why we can offer a high impact product at an exceptional value. BuzzIt is how you harvest the attention your work has generated.
Visit buzzit.ca to build a free event, or connect with CEO Jon Harris directly: jon@buzzit.ca or 1-604-787-1667