Networking, Case Studies
Urban Chamber of Commerce Las Vegas
Implementing major changes to a live event engagement strategy with less than 48 hours to doors open.
---
The Challenge
On a Thursday afternoon in Las Vegas, Urban Chamber of Commerce Operations and Program Manager Dalisa Steward sat back in her chair
. The Capital Connections Business Pitch Competition needed an engagement boost, but there were less than 48 hours until the doors opened.
A month earlier, she'd discussed adding an audience choice award with her team, but no one had taken the lead. It was the right fit for the event, but did she have the time or the budget?And
even if she could introduce a new event feature
quickly
- would anyone actually participate?
In past years, her audience was a collection of established business owners. Her concern was that because they were "more experienced" members of the community, they might be less technical.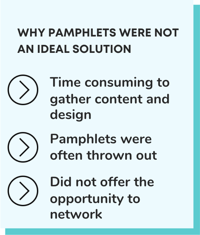 In the past, to enhance networking at the event, the team had created paper programs with speaker profiles to hand
out to attendees
. But how could they find content, design, print and pick up pamphlets in
just
a few days? This was too difficult, too time-consuming, and people were too slow to respond.
In previous years, they'd used
Kahoot as a quick-publishing audience response tool, but it offered nothing in the way of profiles.
There must be an easier way.
Dalisa decided to use BuzzIt. As a fully web-based tool, she could publish and update it instantly. To save even more time, she asked thee competitors (the speakers) to build their profiles directly by sending them a templated email with a link to the BuzzIt event page.
In some cases, speakers might take their time to respond, but Dalisa had an incentive on her side: the audience would use the profiles when considering how to cast their votes for the audience choice award. In the email, Dalisa explained that if a speaker did not set up their profile, they would not receive any votes.
Considering the last-minute implementation and how her audience might be tech-averse, Dalisa took an extra step to boost participation. From her office computer, she created and printed a sheet of business card sized instructions: "To view pitcher profiles and vote in the audience choice award, go to buzzit.ca and enter [our event key]".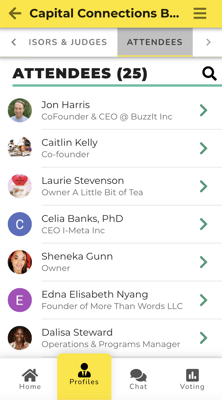 By late Friday afternoon, 7 of the 8 speakers had created profiles, and Dalisa was able to create the missing profile herself in 10 minutes.
Additionally, over half of the attendees also created profiles. These attendee profiles allowed everyone to get a head start on networking, and made it easier to navigate the crowd.
The audience choice award was a success, and over half of the audience voted. Using BuzzIt, there were no questions about voting and the audience was able to do so with no issues. Once the voting
was complete,
Dalisa was able to
simply
open BuzzIt and view the results.
Using BuzzIt not only cost less than paper pamphlets, but it was also better for the environment, as nothing ended up in the trash
.
BuzzIt saved her time, money, and reduced her workload
significantly
.